Ferric Chloride is inorganic macromolecular coagulant, which is made by polyaluminum chloride complexing with polymeric. Therefore, the molecular structure is enlarged; the capacity of neutralization and bridging adsorption is enhanced. It is an ideal chemical to treat heavily organic-polluted raw water as well as low-temperature and low-turbidity, low-temperature and high-turbidity water.
Advantage of ferric chloride hexahydrate:
1. Ferric chloride has good flocculation effect,can be used in the activated sludge dehydration.
2. Ferric chloride can generate discrete and close-grained floc and sedimentate quickly, it also have good sedimentation effect in low temperature water.
3. It has low solubility, adapts a wide applicable PH range. Used as filter aid can greatly improve the effect of turbidity removal.
4. Ferric chloride is an important kind of water treatment agent and have remarkable effect when used in waste water of high turbidity.
Properties:
1.Ferric Chloride combines the coagulate advantages of aluminum salt and ferric salt; can lead to quick formation of close flocs and rapid precipitation.

2.Ferric Chloride has wide-range adaptability to the waters at different temperatures and a good solubility.

3.The dosage is smaller than that of other flocculants, which is better for improving the quality of treated water.

4.It is suitable for the automatic dosing.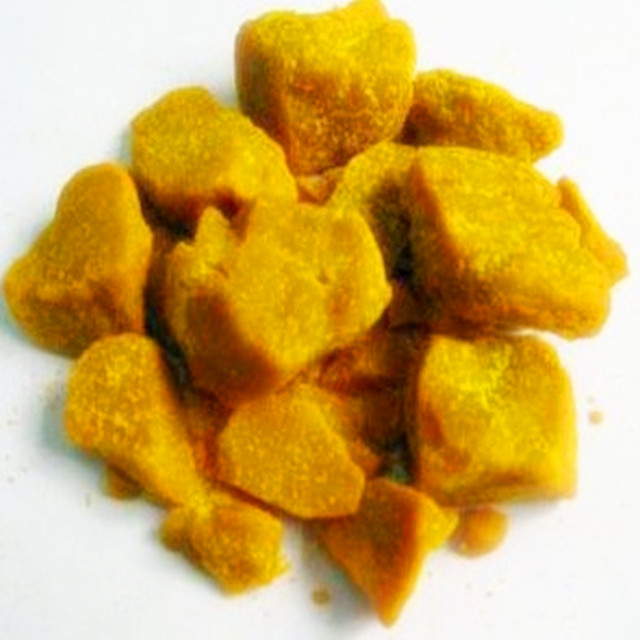 Product Details
| | |
| --- | --- |
| Product Name: | Ferric chloride hexahydrate |
| CAS | 10025-77-1 |
| MW: | 270.3 |
| EINECS: | 231-729-4 |
| EINECS: | |
| Product Categories: | metal halide |
| Mol File: | 10025-77-1.mol |
| Melting poin | 37 °C(lit.) |
| Boiling point | 280-285 °C(lit.) |
| density | 1,82 g/cm3 |
| vapor pressure | 1 mm Hg ( 194 °C) |
| Water Solubility | 920 g/L (20 ºC) |
| Fp | 280-285°C |
| storage temp. | Store at RT |
| color | yellow-brown lumps |
| PH | 1.8 (10g/l, H2O, 25℃) |
| Sensitive | Hygroscopic |
Application Method & Notes:
1. The liquid product can be dosed directly or dosed after dilution. Dilution is necessary before dosing for the solid product. The normal dilution ratio for the solid product is 2%-20%, and 5%-50% for the liquid product (based on weight percentage).

2. The specific dosage is based on the flocculation tests and trials by the users. The usual dosage of the liquid product is 3-40 g/ton, and of the solid product, 1-15 g/ton.

3.The product can not be stored with other chemicals.

4. For the liquid product, we provide special tanks for transportation to the clients, and afford the storage tank. The solid product is packed in inner plastic bags and further in polypropylene woven bags, with each bag containing 25 Kg.

5. The shelf life is six months for liquid product and one year for the solid product. The product should be stored in a dry and ventilated place, but the effect will not be affected even if it gets wet.

6. The product has some corrosion. It needs lots of water to wash if the product splashes into eyes.
Packing & Delivery
The product should be stored in a dry and ventilated place, but the effect will not be affected even if it gets wet.
Packing: 25kg/polypropylene woven bags with inner plastic bag, 25kg/PE bag.