Pay-off Reel
A pay-off reel feeds thin steel plate through the production line. It unwinds a coil into the downstream line. It is also called a decoiler or unwinder.
A tension reel winds up steel plate to form a coil again. The force needed to do this is much higher than with a pay-off reel. A tension reel is also called a winder or coiler.
The design of a coiler/ decoiler includes a main shaft, a spreader and three or four segments. The spreading action is done by means of a hydraulic cilinder with rotating joint.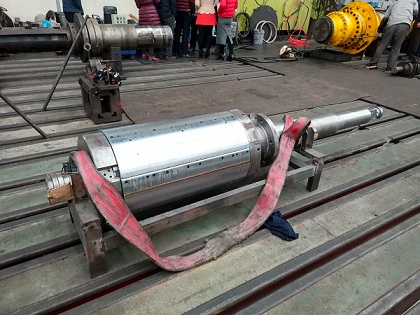 Refurbished aluminum coil pay-off reel in workshop
Mandrel for 1580mm hot rolling project in Ma Anshan Steel (Fourth Rolling Mill)
Basic Parameters
| | |
| --- | --- |
| Coiling Temperature | 300~800℃ |
| Coiling Speed(max) | 20.15m/s |
| Steel strip weight(max) | 28000kg |
| Steel strip thickness | 1.6(1.2)~12.7mm; |
| Steel strip width | 800~1450mm |
| External Diameter of Steel Strip | ☉1100~☉2100mm |
| Roll length of Mandrel | 1650mm |
| Expansion Diameter of Mandrel | ☉762 |
| Expected Expansion Diameter of Mandrel | ☉745 |
| General Shrinkage Diameter of Mandrel | ☉727 |
| Mandrel Type | link rods type |
| Expansion Hydraulic Cylinder of Mandrel | φ390×φ180×53.9/(total journey) |
| Expansion-shrinkage Cylinder speed | 50mm/s |
| Working Pressure of Hydraulic Cylinder | 13 MPa |
Equipment type: optimum design according to the client's requirement.

Strip Material: stainless steel coil, mild steel coil, aluminum coil.

The uncoiler and recoiler are robust design and manufactured, capable for coil weight 10-30ton per coil.

Low cost, good quality, short delivery time.