Product Description:
Designed for lifting,handling and positioning of steel containers,jars with twist off lid and other containers which contains lids made of paramagnetic steel.
When it has been installed on the mechanic arm,it can be used for fast loading or unloading of transport pallets.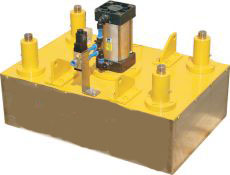 Features:
Pneumatically switchable magnetic field
Strong power neodymium (NdFeB) magnets.
Electro-pneumatic control
Mounting method can meet user's requirments.