Dual-beam X-ray Inspection System
---
Suitable for standing products such as upright cans, bottles and boxes etc.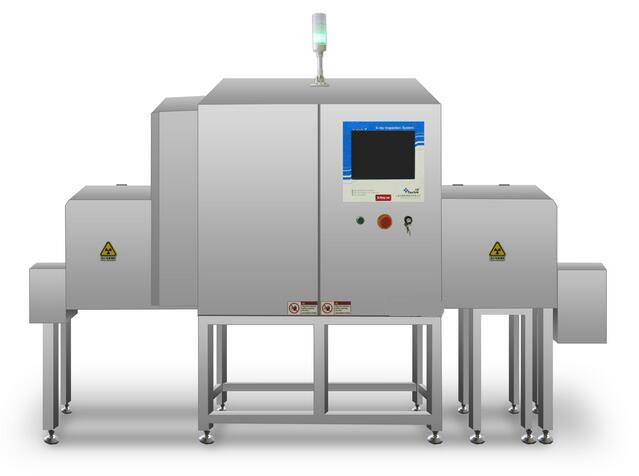 X-ray Inspection System KMD-BDX Series
· 1. Applying double sets of imaging systems, to achieve inspection in double visual angles and avoid missing inspection of blind area
· 2. Intelligent zoning to ensure optimal sensitivity for different areas
· 3. Multi-function, to achieve the inspection for foreign bodies, caps,filling level and packing defects synchronously
---
Specifications
Model

KMD-2080BDX

X-ray Tube

Single tube MAX. 120kV, 480W

Maximum Inspection Width

180mm

Maximum Inspection Height

250mm

Best Inspection Ability

SUS BallΦ0.4mm, SUS WireΦ0.3*2mm

Conveyor Speed

10-70m/min

Operating Environment

Temperature:-10~40℃

Cooling Method:Industrial Air Conditioner

Humidity: 30-90%, Frosting-free

Humidity control: Dehumidifier

X-ray Leakage

<1 Micro Sievert per hour

Rejecter

Push Type

Pressure Requirements

0.6-0.8Mpa

Power Supply

AC220V, 1.5kVA Max, 50/60Hz

Levels of Protection

IP66

Main Material

SUS304
Note
The technical parameter above namely is the result of sensitivity by inspecting only the test sample on the belt. The actual sensitivity would be affected according to the products being inspected.